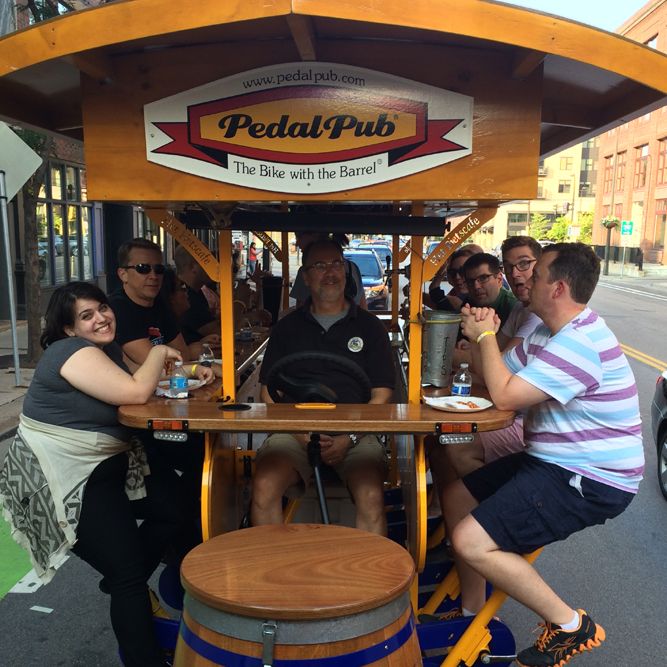 PedalPub Brewery Experience
The newest way to enjoy our local craft beer scene is now here with Twin Cities Brewery Tours! Come jump on the Pedal Pub® while we experience 3 local craft breweries right in downtown Minneapolis!
When you join this tour, you'll enjoy pizza on the PedalPub® bike making your way to local craft breweries.  We'll pedal to Sisyphus Brewing located in Loring Park.  Sisyphus is owned by husband and wife duo, one of which is a local comedian.  Their unique brew are in constant rotation - making this a must visit spot in the cities!  
Next up Inbound BrewCo, one of the newest breweries in the North Loop District.   They feature a large selections of different styles of beer from hoppy, heavy, Polish, German and Belgian.
The evening will end at Fulton in the Northloop District.  The owners started homebrewing in a one car garage in a South Minneapolis alley, daydreaming about one day building their own production brewery.   They have recently expanded their production to a large Northeast 2nd brewery, with their taproom located in Northloop.   Their signature beers - Lonely Blonde and Sweet Child of Vine can now even be found in cans.
What's Included - All Inclusive Experience!
2.5 hour experience and up 3 brewery visits
Sample local craft beer - pint at each location included
Pizza on the PedalPub
Snacks 
Bottled Water
Souvenir beer cup
Cooler to store your drinks in
Fun and knowledgeable tour guide
PedalPub pilot
Gratuities for brewery staff, tour guide and pilot
Add Ons
Behind the scene tour at 1 brewery: $10 per person
Have food catered into a brewery: Price varies
Have private dining arranged at a brew pub or restaurant: Price varies
Include a city sightseeing tour: Price varies
Pint glasses for souvenirs - Brewery pint glass $7.50, Twin Cities Brewery Tours glass $6
T-shirts or souvenirs - pricing will vary from brewery to brewery
Beverage Rules
You are allowed to bring a cooler with ice and beverages.  Beverages in glass are not allowed.  Hard liquor is not allowed.  Beer in cans or plastic are allowed.  Wine, hard lemonade and hard cider is allowed. Soda, water and non-alcoholic beverages are allowed.
Pricing
Sunday - Wednesday: Group of 8-15 people $402 plus $47 per person
Thursday - Saturday: Group of 8-15 people $474 plus $47 per person
This location has 5 bikes to accommodate up to 75 people total
Service Area
This tour operates just in downtown Minneapolis.  Starting location is at Stadium Bar and Grill - 207 Washington Ave. N., Minneapolis